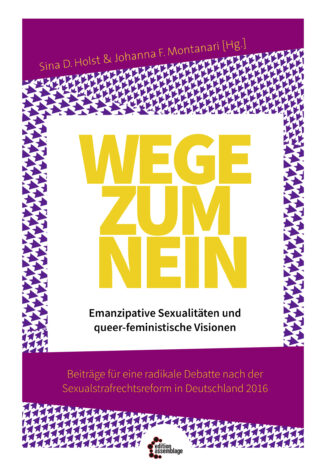 Wege zum Nein
Emanzipative Sexualitäten und queer-feministische Visionen Beiträge für eine radikale Debatte nach der Sexualstrafrechtsreform in Deutschland 2016
German
Paperback, 256 pages
140 x 205mm
978-3-96042-015-6 / 2-973
14,00 Euro
Publication date: 07/2017
German
Paperback, 256 pages
140 x 205mm
978-3-96042-015-6 / 2-973
14,00 Euro
Publication date: 07/2017
Content
"Wege zum Nein" betrachtet die Reform des Sexualstrafrechts 2016 im gesellschaftlichen Kontext sexueller Gewalt, sexueller Selbstbestimmung und Emanzipation. Antirassistische queer-feministische Perspektiven beziehen klare Positionen, machen sich angreifbar und treten in Austausch miteinander. Sexualstrafrecht, #NeinHeisstNein, rassistische Instrumentalisierung, Rassismus in Deutschland, Vergewaltigungskultur, persönliche Erfahrungen, feministische Geschichte_n und Konsens werden nicht als Einzelthemen, sondern in ihrer Abhängigkeit voneinander diskutiert. Dabei ist die zentrale Frage, wie Räume sozialer Interaktion geschaffen werden können, in denen Nein nicht nur möglich ist, sondern wertgeschätzt wird. Die Publikation gibt einerseits unterschiedlichen Analysen Raum, die den gesellschaftlichen Status Quo thematisieren und attackieren. Andererseits entwirft und formuliert sie Argumente und Visionen, diesen Status Quo zu verändern, sich Handlungsmacht anzueignen und diese zu erweitern.
Editors
Sina Holst
— Sina Holst edited the essay collection Wege zum Nein together with Johanna Montanari. Sina is involved in scientific, poetic, and political research and writing on the topics of consent, trauma, sexualities, and time.
read more
Johanna Montanari
— Johanna Montanari is an author and journalist based in Berlin. At edition assemblage she edited the essay collection Wege zum Nein in 2017 and in 2018 she did revisions for the essay collection Nicht nur Mütter waren schwanger. In both projects she was also involved as an author.
read more
Reviews
Nothing found here. If you wrote a review or if you know about any press commentary, get in touch and let us know.