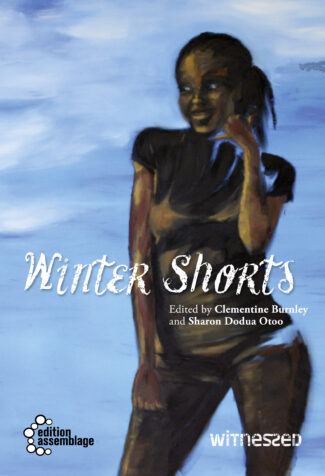 Winter Shorts
Reihe: Witnessed
Englisch
Paperback, 112 Seiten
140 x 205mm
978-3-942885-94-2 / 2-110
9,80 Euro
Erscheinungstermin: 10/2015
Reihe: Witnessed

Englisch
Paperback, 112 Seiten
140 x 205mm
978-3-942885-94-2 / 2-110
9,80 Euro
Erscheinungstermin: 10/2015
Inhalt
Winter Shorts is a collection of delightful short stories edited by Clementine Burnley and Sharon Dodua Otoo featuring original work by the authors Clementine Burnley, Bino Byansi Byakuleka, Noah Hofmann, Njideka Stephanie Iroh, Elsa M'bala, Muriel Mben, Sharon Dodua Otoo, WoMANtís RANDom, Tigist H. Schmidt and Monique Simpson. All set in a German-speaking country in winter time, each of the stories introduce vivid characters in sometimes funny, sometimes dramatic and sometimes tragic circumstances. This anthology showcases stories that move: to laugh with, to cry over, to reflect on, and to inspire …
Witnessed Book Series Edition 5 ~ Sharon Dodua Otoo
Herausgeber*innen & Reihe
Clementine Ewokolo Burnley
— Clementine Ewokolo Burnley ist Mutter, Geschichtenerzählerin und Sozialarbeiterin.
Mehr Infos
Sharon Dodua Otoo
— Sharon Dodua Otoo ist Autorin, Aktivistin und Herausgeberin der englischsprachigen Buchreihe "Witnessed". Ihre ersten Novellen "the things i am thinking while smiling politely" (2012) und "Synchronicity" (2015) sind jeweils 2012 und 2014 auch in deutscher Übersetzung bei edition assemblage erschienen.
Mehr Infos
Witnessed
— Eine englischsprachige Buchreihe von Schwarzen Autor*innen, die in Deutschland gelebt haben. Die Reihe wird von Sharon Dodua Otoo herausgegeben und erscheint im Verlag edition assemblage.
Mehr Infos
Leseprobe / Cover
Textauszug aus dem Buch Winter Shorts
:
Snow in a city seems unnecessary. It looks enchanting for a while, as the first flakes settle and enwrap the streets and the rooftops in glistening white. The hectic pace of the city slows down. But soon, snow gets mucky and slushy. It becomes a nuisance; dogs pee on it, cars drive on it, roads get icy. Emergency rooms are packed with patients with broken legs and arms from minor accidents on slippery pavements and zebra crossings … As far as I know, the lyrics were "walking in a winter wonderland" and not "slipping and sliding in a choleric white Christmas village."
from Support a Black-Owned Business Especially at Christmas by Njideka Stephanie Iroh
[...]
Pressestimmen (3)
The stories in Winter Shorts depict characters who are displaced in many senses: geographically, socially, culturally, linguistically – and, most importantly of all, they are black people in a white world. The winter of the title clearly stands as a metaphor for the cold, alien environment of Germany and Austria in which the characters, and perhaps the authors themselves, are outsiders. The majority of contributors to this volume are appearing in print for the first time. Witnessed is to be congratulated on having supported this project and for having provided this platform for black voices to tell their own stories in their own words.
— Máire Davies, Honorary Fellow, Royal Holloway, University of London, United Kingdom
Winter Shorts gave me feelings similar to those I had when I was a little girl devouring my late paternal grandmother's bookshelf, a space that introduced me to Toni Morrison, Ralph Ellison, Ann Petry, James Baldwin, Gloria Naylor, and other legendary Black writers. It gave me feelings similar to those that I have when I'm with family eating BBQ, drinking cocktails, and playing cards. It gave me feelings similar to those I have when I'm at an academic conference full of Black folk. It gave me feelings similar to those I have when I visit my friends and comrades in Berlin. The feeling is this: I am honored and blessed to be part of such a rich, complex, and electric community full of joy, pain, laughter, sadness, fear, excitement. The misery Burnley caresses in "Boom" is there. The embarrassment that turns into pain that turns into anger is there, as Iroh embraces in "Support a Black-Owned Business Especially at Christmas." The oblivion that Simpson massages in "Raw" is there, too. It's all there, because, as Burnley points out, "The characters in our stories are hurting but they are finding ways to make it on their own terms, without giving up their identities." Although she has transcended this life, Toni Cade Bambara always reminds us that the writer's job is to "make the revolution irresistible." The many brilliant writers who share their voices with us in Winter Shorts take up this tremendous task by reminding us that the revolution happens in our hearts, minds, and spirits during moments when we might least expect it.
— Dr. Heidi R. Lewis, Colorado College, The Feminist Wire
Winter Shorts is a very important collection of writings by African Diasporic/Black writers that turn global white supremacy on its head in both subtle and profound ways. Each contribution reminds this African-American cultural worker that the struggle to define and redefine oneself in countries that consistently marginalize and demonize Blackness is international. Co-Editors Clementine Burnley and Sharon Dodua Otoo did a masterful job with compiling a diverse group of extraordinary authors whose writings defy the myth of the monolithic African/Black experience.
— Aishah Shahidah Simmons, The Feminist Wire