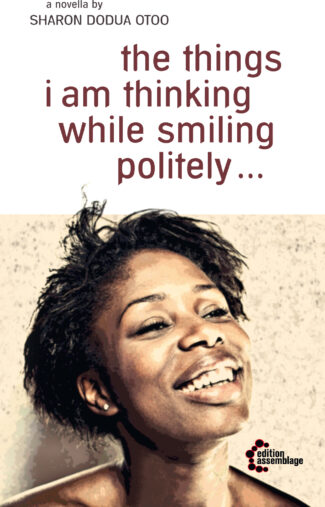 the things i am thinking while smiling politely
Englisch
Paperback, 104 Seiten
110 x 180mm
978-3-942885-22-5 / 2-116
12,80 Euro
Erscheinungstermin: 02/2012
Englisch
Paperback, 104 Seiten
110 x 180mm
978-3-942885-22-5 / 2-116
12,80 Euro
Erscheinungstermin: 02/2012
Inhalt
"the things i am thinking while smiling politely" is the story of the decline and break-up of a marriage as well as the consequences for close family and friends. Ama loses her sista, Kareem learns to mistrust a good friend, the siblings Ash and Beth have to fight for their mother's affection, Till and his wife drift away from each other… Sensitively, honestly and with a special sense of humour, the woman with all these roles describes how she rediscovers herself – and not only in the positive sense. Following years of activist work in the Black German community, Sharon Dodua Otoo continues to pursue empowerment as a theme, this time in the field of literature. Sharon weaves her observations on everyday racism and privilege into the story of a Black British woman whose marriage breaks down.
Autorin
Sharon Dodua Otoo
— Sharon Dodua Otoo ist Autorin, Aktivistin und Herausgeberin der englischsprachigen Buchreihe "Witnessed". Ihre ersten Novellen "the things i am thinking while smiling politely" (2012) und "Synchronicity" (2015) sind jeweils 2012 und 2014 auch in deutscher Übersetzung bei edition assemblage erschienen.
Mehr Infos
Pressestimmen (3)
Otoo's writing is efficient and brutal with a journal-like quality. This writing style effortlessly explores complex issues like white supremacy in intimate relationships, cultural colonialism, immigration, the mine-field of divorce and universal human failure. None of these issues are at the center of the story, yet are weaved through everything that happens. Her narrative gives us a sneak peek into the unsaid and often felt universe of a black woman in Berlin
— Denise Van der Cruze, The Mic Movement
Reading this brings flashes of recognition: how it is to be loved and overlooked, to be thought exotic and scorned, to be adored and ignored- all at the same time. Sharon Otoo strings us along, spellbound, with fragments of language that fill us with the thought: this is how the heart breaks.
— Fawzia Kane, Poet and Author of "Tantie Diablesse"
An intense and penetrating account of the emotional fallout, secrets and lies that shadow the death of a relationship.
— Neil Ansell, Author of "Deep Country"