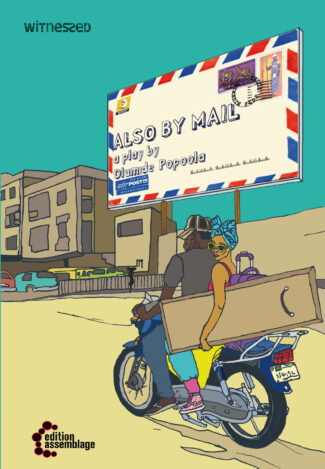 Also by Mail
Reihe: Witnessed
Englisch
Paperback, 96 Seiten
140 x 205mm
978-3-942885-38-6 / 2-152
9,80 Euro
Erscheinungstermin: 11/2012
Reihe: Witnessed

Englisch
Paperback, 96 Seiten
140 x 205mm
978-3-942885-38-6 / 2-152
9,80 Euro
Erscheinungstermin: 11/2012
Inhalt
Also by Mail is a modern family comedy-drama that follows the experiences of Nigerian German siblings Funke and Wale who fly to Nigeria to bury their suddenly deceased father. Their upbringing clashes with their uncle's expectations and initial misunderstandings soon come to an éclat. When Wale returns to Germany, frustrated, he is bitterly reminded of how little his father acknowledged and prepared them for racist encounters there. Loss and racism, sibling rivalry and cross-cultural etiquette, the play incorporates and subverses it's urban, neo-African elements of story-telling to give a contemporary picture of a family that struggles not only with the legacy of its patriarch but with being racialized within the German context as well. Only an unusual intervention of an extraordinary kind brings comfort to the siblings and the rest of the family.
Witnessed Book Series Edition 2 ~ Sharon Dodua Otoo
Autorin & Reihe
Olumide Popoola
— Die in London lebende nigerianisch-deutsche Olumide Popoola präsentiert sich international als Autorin, Sprecherin und Performerin.
Mehr Infos
Witnessed
— Eine englischsprachige Buchreihe von Schwarzen Autor*innen, die in Deutschland gelebt haben. Die Reihe wird von Sharon Dodua Otoo herausgegeben und erscheint im Verlag edition assemblage.
Mehr Infos
Leseprobe / Cover
Textauszug aus dem Buch Also by Mail
:
If people want to scam themselves into the inheritance or us out of it, so be it. I needed a father, not a bank. I got neither. In fact I didn't even get to mourn for the father I did have.
~ Wale in Also By Mail
[...]
Pressestimmen (3)
I found this to be a slick and captivatingly contemporary Afro-European tale that, like jazz, is also rooted in the folkloric things that animate people. Also an apt story for this day and age of cultural flux and elusive ways of belonging.
— Brian Chikwava, Author of "Harare North"
A fascinating play that delves into the Nigerian diaspora to tell a moving tale of Nigerian-German history. When Mr Ogunleye returns to Nigeria he leaves his two Afro-German children behind to cope with everyday racism without his guidance or protection. After his death the children travel to Nigeria and meet up with their father's other family members from Lagos and London. Diverse experiences, expectations and hopes result in frustration, misunderstandings and breakdown. However, in the end it is a profound wisdom which imagines a new future for the family – one that opens up new horizons for their diasporic experiences. Olumide Popoola presents us with another treasure of Afro-German literature in English.
— Susan Arndt, Professor of English Studies and Anglophone Literatures, University of Bayreuth
Also by Mail is a pioneering play by the London-based Nigerian-German novelist, poet and playwright Olumide Popoola – poignantly and authentically representing the lives, the diversity, the struggles and aspirations of people in the Black diaspora, their quest for identity and justice. Generation conflicts, the clash of cultures and language barriers are depicted with warmth and humor whereas racist experiences in Germany are resolutely and realistically conveyed, as well as results of determined resistance, not leading to reconciliation but at least to legal justice. Also by Mail is a powerful play, entertaining and thought-provoking. Having read it with joy, one wishes to see it performed on stage soon.
— Marion Kraft, Author of "The African Continuum and African American Women Writers"