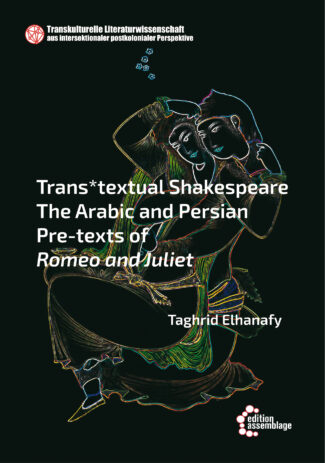 Trans*textual Shakespeare
The Arabic and Persian Pre-texts of Romeo and Juliet
Series: Transcultural Literary Studies
English
Paperback, 157 pages
140 x 205mm
978-3-96042-074-3 / 2-973
18,00 Euro
Publication date: 24.07.2020
Content
Trans*textual Shakespeare: The Arabic and Persian Pre-texts of Romeo and Juliet stellt Romeo und Juliet (um 1595) in die Tradition der islamischen Philosophie des Sufismus und kontextualisiert sie als eine Form von " Wissen in Bewegung". Das Buch zeigt deutlich, wie sich die islamische Philosophie des Sufismus seit jeher mit der arabischen Geschichte von "Majnun Layla" (8.Jahrhundert AD) bis zu Shakespeares Drama Romeo und Juliet bewegt hat. Die Philosophie des Sufismus prägte Shakespeares-Text. Diese These leistet einen wichtigen Beitrag dazu, rassistische und nationalistische Darstellungen des Islam zu unterwandern.
Author & Series
Taghrid Elhanafy
— Taghrid Elhanafy (Egypt) has an MA in Intercultural Anglophone Studies and a PhD from the University of Bayreuth on knowledge encounters between Europe and the MENA region in Elizabethan literature. As part of the research group on Shakespeare's African and Asian sources, she researches Arabic and Persian sources of Shakespeare's Romeo and Juliet. In addition, she works on migration literature in Arabic and Mahjar literatures.
read more
Transcultural Literary Studies
— The book series Transcultural Literary Studies and Intersectional Postcolonial Perspectives, as edited by Susan Arndt, Shirin Assa & Julia Dittmann is dedicated to rereading literatures and films as powerful narrations that are shapeshifters of societies that un/make its structures, knowledges and discourses.
read more
Reviews
Nothing found here. If you wrote a review or if you know about any press commentary, get in touch and let us know.