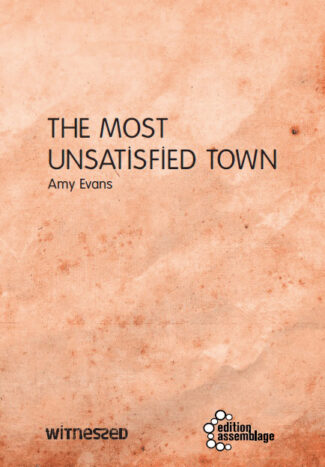 The Most Unsatisfied Town
Series: Witnessed
English
Paperback, 96 pages
140 x 205mm
978-3-942885-76-8 / 2-152
9,80 Euro
Publication date: 01/2015
Series: Witnessed

English
Paperback, 96 pages
140 x 205mm
978-3-942885-76-8 / 2-152
9,80 Euro
Publication date: 01/2015
Content
Since claiming asylum in Germany, Laurence has had to start his life over again. He's found the formula for survival, or so he thinks, until one day his friend mysteriously disappears. When the body turns up charred beyond recognition, a search for those responsible begins, forcing Laurence to take a closer look at the town he was so ready to call home. Based on the true story of Oury Jalloh.
Witnessed Book Series Edition 4 ~ Sharon Dodua Otoo
Author & Series
Amy Evans
— Amy Evans is an award-winning dramatist whose work explores the impact of borders, memory, and loss on the human spirit. Her plays include "Achidi J's Final Hours" (Finborough Theatre), "Many Men's Wife" (Tricycle Theatre), and "The Champion", an original work inspired by the life of Nina Simone.
read more
Witnessed
— Witnessed is a book series published in a cooperation between edition assemblage and Sharon Dodua Otoo. It contributes English language testimonies to existing "Black in Germany" accounts (both fiction and non-fiction) while simultaneously providing access to this literature to international English-speaking audiences.
read more
Reading Sample / Cover
Excerpt from the book The Most Unsatisfied Town
:
The day I left the shelter, I thought I was going someplace better. And indeed there were no more pipes hanging from the ceiling, no more broken windows, no holes in the walls. But there was something else. Something I didn't know how to name…
[...]
Reviews (3)
Most people believe that theatre many not have the power to change the world, but we have always maintained that that's no reason not to try. With The Most Unsatisfied Town … I recommend you a dramatist who might.
— Neil McPherson, Artistic Director, The Finsborough Theatre
Amy Evans' account of African immigrants seeking justice in small town Germany is written with clarity and heart.
— Oladipo Agboluaje, Author of "The Hounding of David Oluwale", "Iya-ile (The First Wife)"
The Most Unsatisfied Town by Amy Evans is not a play about "race", "injustice" or "asylum seekers", though I suspect those words and phrases will be and could be used to describe it. But like all great plays, this is a story about difficult moral choices and the consequences they have. Laurence, a Guinean man, has sought asylum in Germany. He wants to play it safe, run his internet café business, keep his head down. But is that the right thing to do in a town that does not want him to be there? Amy takes her time to create a sense of an immigrant community living on a knife's edge. She makes us care about thier lives before letting the terrible tragedy at the heart of the play unfold. This is a play that you'll want to read and re-read. It throws an exciting gauntlet of staging possibilities before any director wishing to make it live and breathe.
— Hassan Abdukrazzak, Author of "Baghdad Wedding"