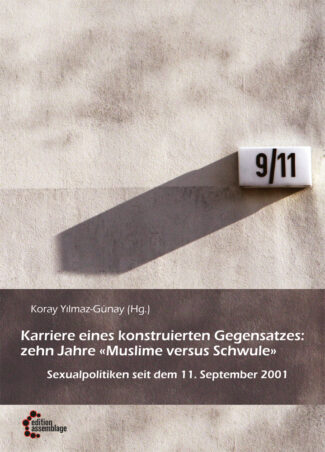 Karriere eines konstruierten Gegensatzes: Zehn Jahre "Muslime versus Schwule"
Sexualpolitiken seit dem 11. September 2001
German
Paperback, 216 pages
140 x 205mm
978-3-942885-53-9 / 2-973
18,00 Euro
Publication date: 12/2014
German
Paperback, 216 pages
140 x 205mm
978-3-942885-53-9 / 2-973
18,00 Euro
Publication date: 12/2014
Content
Wie in einem Brennglas erscheinen seit den Anschlägen vom 11. September 2001 die seit dem Kolonialismus etablierten westlichen Imaginationen über "den Islam" – Geschlecht und Sexualität waren und sind in diesen zentral. Und es blieb nicht bei Vorstellungen, sondern es wurden in westlichen Staaten demokratische Grundrechte abgebaut und Kriege begonnen – in weiten Teilen begründet mit Argumentationen über Geschlecht und Sexualität.
Der von Koray Yılmaz-Günay herausgegebene Sammelband mit Beiträgen in- und ausländischer Wissenschaftler_innen, Publizist_innen und Aktivist_innen blickt zurück auf die letzte Dekade und schaut auf die Überlappungen von feministischen und lesbisch-schwulen Debatten mit den Entwicklungen in der Mehrheitsgesellschaft. Er geht der Frage nach, ob/wie die relativen Erfolge der Frauen- und Homosexuellen-Emanzipation unter anderem durch rassistische Rückschritte erkauft wurden.
With contributions from
Jin Haritaworn
,
Hilal Sezgin
,
Georg Klauda
,
Esra Erdem
,
Salih Alexander Wolter
,
Zülfukar Çetin
and
Markus Bernhardt
.
Editor
Koray Yılmaz-Günay
— Koray Yılmaz-Günay is co-managing director of the Migration Council Berlin, an umbrella organization of more than 80 migrant organizations as well as organizations of black people and people of color. He also works in extracurricular political education, especially in anti-racist education.
read more
With contributions from
Jin Haritaworn, Hilal Sezgin, Georg Klauda, Esra Erdem,
Salih Alexander Wolter
,
Zülfukar Çetin
and Markus Bernhardt.
Reviews
Nothing found here. If you wrote a review or if you know about any press commentary, get in touch and let us know.