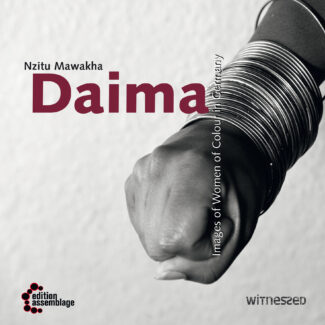 Daima
Images of Women of Colour in Germany
Series: Witnessed
English
Paperback, 96 pages
205 x 205mm
978-3-942885-48-5 / 2-116
19,80 Euro
Publication date: 11/2013
Series: Witnessed

English
Paperback, 96 pages
205 x 205mm
978-3-942885-48-5 / 2-116
19,80 Euro
Publication date: 11/2013
Content
Daima. Images of Women of Colour in Germany is a collection of selected black and white photographic portraits of inspiring Black women who live and work in Germany. From intimate representations of two ladies confiding in each other, through lively group pictures of sistahs together, to beautiful individual portraits: this book captures their interactions in a variety of settings. Afro-German photographer Nzitu Mawakha (1973-2014) presented a unique collection of striking images and combines these with texts, where the women portrayed focus their gaze on the reader-viewer and where the women portrayed are the ones to ask the questions.
Witnessed Book Series Edition 3 ~ Sharon Dodua Otoo
Author & Series
Nzitu Mawakha
— Nzitu Mawakha was a photographer and a long-standing member of the registered association Initiative Schwarze Menschen in Deutschland (Initiative Black People in Germany).
read more
Witnessed
— Witnessed is a book series published in a cooperation between edition assemblage and Sharon Dodua Otoo. It contributes English language testimonies to existing "Black in Germany" accounts (both fiction and non-fiction) while simultaneously providing access to this literature to international English-speaking audiences.
read more
Reading Sample / Cover
Excerpt from the book Daima
:
It was love at first sound between music and me. It saved my soul in more than one situation. People very often suggested for no particular reason that I might be good at singing. Those cliché-based statements did not stop me from doing exactly what the society I chose to live in expected of me – to sing! I sang and sang and sang myself free…
[...]
Reviews (2)
Young Americans exposed to the study of German in American schools have the mistaken impression that all Germans are white and Germany is a homogenous culture (a Leitkultur). Daima provides visual evidence to the contrary. The images and texts are eloquent witnesses of a multicultural Germanness that has had to withstand a constant onslaught of discrimination and racism. At the same we can see the strength that is found in communities. This book will be a valuable tool to motivate students of color to learn German. On a simplistic level having the young person of color in our society see someone from German society that looks like them is a first step to bringing them into the German classroom. The most important aspect of Daima however are the descriptions of the various strategies used by the women to preserve their sense of self in the face of overwhelming prejudice and exclusion. That is a lesson and a mechanism which students of color in our society can profit from. We are all members of the great African Diaspora because we share common experiences. Daima puts a face on the German segment of that Diaspora.
— Leroy T. Hopkins, Professor of German, Millersville University
As a person of dual heritage with roots in Germany, I welcome this literary and artistic achievement in my personal library, and recommend it without reservation to both individuals and academic institutions. There are an infinite number of adjectives I could use to describe this textual and visual masterpiece. Ultimately, Daima is a powerful and compelling work. It is especially remarkable, in that it brings together personal narrative and spirited visual representation that at once speaks to the multiplicity of the contemporary experience of Women of Colour in Germany. Importantly as it is written in English, for those of us who were adopted and brought to the United States during the Post World War II Occupation and struggle today with the German language, it is indeed a cherishable volume. From a scholarly perspective, it lends itself to an interdisciplinary audience, to which our organization, the Black German Heritage and Research Association (BGHRA), will be happy and committed to endorse and promote.
— Rosemarie Peña, President of the Black German Heritage and Research Association