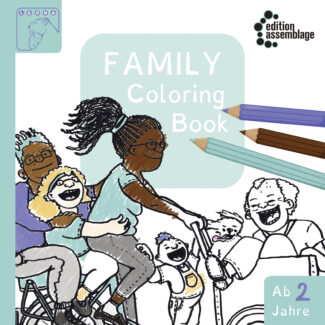 FAMILY Coloring Book

Paperback, 32 pages
170 x 240mm
978-3-96042-062-0 / 2-295
5,90 Euro
Publication date: 04/2019

Paperback, 32 pages
170 x 240mm
978-3-96042-062-0 / 2-295
5,90 Euro
Publication date: 04/2019
Content
Das Familien Malbuch von LEONA bietet auf 32 liebevoll gestalteten Seiten kreativen Ausmalspaß für die ganze Familie. Es fördert die Feinmotorik und regt zu Gesprächen über unterschiedliche Familienmodelle an. Es bricht mit den gängigen Normen und zeigt ein breites Spektrum des Zusammenlebens. Es macht Spass, sich in den detailreichen Bildern wiederzufinden. Zudem liefert das Buch wichtige Impulse, Diversität und Inklusion zu thematisieren.
With contributions from
Yori Gagarim
.
Editors
Leona Games
— Leona Games creates games for the whole spectrum. We focus on education, diversity and inclusion for all ages.
read more
With contributions from
Yori Gagarim
.
Reviews
Nothing found here. If you wrote a review or if you know about any press commentary, get in touch and let us know.