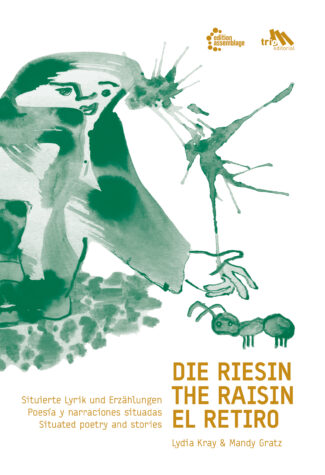 Die Riesin / El Retiro / The Raisin
Situierte Lyrik und Erzählungen
German, English, French, Spanish
Softcover with flaps, 284 pages
140 x 205mm
978-3-96042-115-3 / 2-151
20,00 Euro
Publication date: 07/2021
mit farbigen Illustrationen
German, English, French, Spanish
Softcover with flaps, 284 pages
140 x 205mm
978-3-96042-115-3 / 2-151
20,00 Euro
Publication date: 07/2021
mit farbigen Illustrationen
Content
Künstler*innen, Übersetzer*innen und Designer*innen aus Deutschland, Chile und Spanien haben an diesem Buch mitgewirkt. Die Riesin verbindet diese Orte und Menschen ebenso miteinander wie sie Bilder, Sound und Texte miteinander verwebt.
Die beiden Autor*innen schreiben über Erinnern und Vergessen, Erotik und Verlust. Sie erzählen von manchmal überwältigenden, manchmal heimlichen und komplizenhaften Erfahrungen mit Natur. Die Texte machen die Entfremdung ebenso spürbar wie die Verbindung zur Natur, weil sie den Standpunkt immer wieder verändern und sich auf Schönes und Schreckliches gleichermaßen einlassen.
Das Buch zeichnet sich aus durch eine vielschichtige Verweisstruktur, die viel Raum zum Atmen lässt und Spielräume für die Leser*innen eröffnet. Die selektiven Übersetzungen ins Spanische, ins Englische und Französische öffnen den Blick für die Brüchigkeit von Sprache. Die Riesin befindet sich irgendwo zwischen feministischem Märchen, Bilderbuch und translokaler Lyriksammlung.
Artists, translators and designers from Germany, Chile and Spain have collaborated on this book. Riesin connects these places and people just as she interweaves images, sound and texts. The two authors write about remembering and forgetting, eroticism and loss. They tell of sometimes overwhelming, sometimes secret and complicit experiences with nature. The texts make the alienation as palpable as the connection to nature, because they constantly change the point of view and engage with the beautiful and the terrible in equal measure. The book is characterised by a multi-layered structure of references that leaves plenty of room to breathe and opens up scope for the reader. The selective translations into Spanish, English and French open our eyes to the fragility of language. The Giantess is somewhere between feminist fairy tale, picture book and translocal poetry collection.
Musik zum Buch auf Soundcloud
https://soundcloud.com/lydia-kray/sets/die-riesi-the-raisin-el-retiro
Editors
Lydia Kray
— Lydia Kray is a feminist writer and activist. Her works reflect on nature, loss, and queerness.
read more
Mandy Gratz
— Mandy Gratz is a feminist writer and activist. Her works reflect on nature, loss, and queerness.
read more
Reading Sample / Cover
Excerpt from the book Die Riesin / El Retiro / The Raisin
:
"Lügen und Sünde, zwei so schöne Worte, Worte für Schriftsteller*innen und Sexarbeiter*innen. Worte für Körper und Sprache. Schon immer, seit ich sprechen kann, habe ich Geschichten erzählt und gesündigt. Als ich auf Mooshügeln saß und mit Katzengold in den kleinen Händen zu der Luft und dem Ort um mich herum gesprochen habe, leise fabulierend über die Mythologie seiner Blüten, noch der verstecktesten Ecken seiner Steinmauern, seiner Beziehung zur Waldgrenze, der Tiefe seiner alten Bergwerksstollen. Meine Sünde quillt aus den neuen Worten, mit denen ich die Pflanzen bedenke, den herben Früchten, die meine Sprache auf dem Waldboden hinterlässt."
[...]
Reviews
Nothing found here. If you wrote a review or if you know about any press commentary, get in touch and let us know.